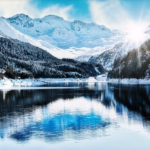 This says GOD YHWH :
I AM the GOD of grace and truth… and of chastisement and of judgement. I AM the Creator of all existing things. For I AM the I AM, who revealed Himself to Mozes, the man of GOD. Many prophets and seeers and revelators testified and still testify, by their scriptures and testimonies, concerning things that were, are… or will be. For I AM the Living GOD and I will never change ; although many churchleaders taught different, according to their sectarian knowledge. I AM. For I AM the Same, yesterday, today and tomorrow. I AM. In the same way I will lead creation, according to My plan and holy will and words/prophecies/revelations of My holy scriptures… and of My holy wittnesses and testimonies of the past and of the present and future. I AM. For I never stopped… and will never stop… speaking and revealing My-self to chosen ones. I AM.
Prophecy 10.02.2020. Received by The Candle.