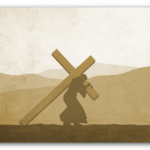 This says GOD YHVH, the All-knowing GOD of the heavens and the earth :
I AM YHVH, the GOD of creation. The heavens and the earth are My work. No-one was before I AM. Soon I will give the inheritance in My coming heavenly Kingdom to My beloved sons and daughters IN Yeshua ha Mashiach/Jesous Christos/Jesus the Christ. I AM. For they are IN Him and He indwells them by His Spirit. They are one with Me and Him and Our holy chosen angels. I AM. Blessed are all who have this hope in eternal glory by means of Our gift of faith to/in them, by which they are saved by means of Our grace and truth and love and work of salvation IN Christ Jesus on the cross. I AM.
Prophecy 12.03.2020. Received by The Candle.