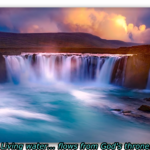 This says YHVH-Elohim, the Almighty Ones of creation, the Elohim/Gods above all elohim/gods, YHVH-Elohim/YHVH-Gods :
Hear, ye ben-elohim/sons of the gods, I AM the Almighty One. I AM the Creator of all. No-one is capable to understand all secrets of creation, unless I will reveal it to him or her. But I almost never reveal all to one person, but I spread the True Knowledge and Holy Prophecies and Revelations during all ages among My faithfull ones, who believed Us. I AM. Many scholars think that they know much, but they err. I AM the Almighty and all-knowing and all-seeing GOD of My holy creation in the heavens and on/in the earth. I AM. No-one is capable to understand the greatness of My works, unless I reveal it to his heart or show it to him. I AM. Many scholars are even deceived/seduced by evil spirits, who also can give "knowledge" and "prophecies" and "revelations", but always deny Me or My Holy Gospel/Word of GOD or My Holy Son Yeshua ha Mashiach/Jesus the Christ. I AM. My true holy spirits/holy angels always glorify Us, YHVH-Elohim : The FATHER, I AM YHVH, the Son Jesus the Christ/Yeshua ha Mashiach/YHVH saves the Anointed One… and the Holy Ghost/Ruach Hakodesh. We are One… and we are I AM.
Prophecy 14.05.2020. Received by The Candle.