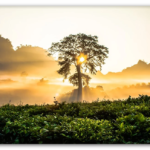 This says GOD YHVH, the Almighty One of creation, the GOD of Israel :
"Hear, ye nations, I AM the One and Only True GOD who created all visible and invisible realms in creation. I AM. Many heard My Voice in the preaching of the Good News/Gospel of saving grace and truth and godly love and justifying goodness over all who believe… and to those to whom We count the redeeming work of Yeshua ha Mashiach/Jesus the Christ as the Only Reason to be justified in Our holy Eternal Presence. I AM. " ; Says the Lord GOD almighty, YHVH-Elochim. "Many lost their salvation by means of the love for the world and her desires and fleshly lusts and pride and haughtiness and worldly fame and religious deceit and seduction and Mammon/Worldly wealth/riches of the earth and worldly posessions… and choices, that were opposite My holy eternal will. When people start to get to know Me by means of My grace and love and truth, but reject Me after they have understood what it will take them… or will cost them… or they decide, that they are not willing to follow Yeshua ha Mashiach/Jesus the Christ… and are not willing to suffer for Christ' sake nor willing to take up their cross daily and are not willing to deny themselves till the end… than they will choose the world again and will fall away to their eternal destruction, death and the kingdom of death/scheol/hades and second death, which is the lake of fire and brimstone. I AM." ; Says the Lord GOD Almighty, YHVH-GOD, the Ruler of the universes, the King of all kings and the LORD of all lords, who revealed Himself IN Christ Jesus/Yeshua ha Mashiach in the flesh and blood and bones. "Blessed are all who remain in Me and My Son and Our Holy Ghost and Our Holy Words… and who are obedient to Our Holy Gospel-Truths as faithfull disciples, true sons and daughters and children of faith IN Yeshua ha Mashiach/Christ Jesus. I AM." ; Says the LORD GOD YHVH, the King of Israel, the GOD of the heavens and of the earth. "They will overcome this evil godless world… and will, after they have endured till the end, inherit the Kingdom of God… and will reign with Us during 1000 years on earth as Our holy kings and priests. I AM." ; Says the Almighty GOD YHVH, the Heavenly Righteous GOD and Father of Yeshua ha Mashiach/Jesous Christos/Jesus the Christ, the Son of GOD.
Prophecy 11.01.2021. Received by The Candle/ Jean Schoonbroodt. NL. EU.