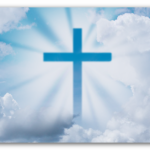 This says GOD YHVH, the GOD and Father of creation :
Hear, ye sons and daughters of My Inheritance, soon I will come to gather you, so that you will be united with Me and My holy Mashiach in all eternity in Our new heavens and new earth, I AM. For I AM the GOD, who spoke in the prophets and wrote by them things concerning past, present and future. I AM. In these days I will restore the fullness of My good news/gospel to those, whom I have elected from before foundation of creation to know the truth. I AM.
Prophecy 17.04.2020. Received by The Candle.